Poetry of The Great War,
1914-1918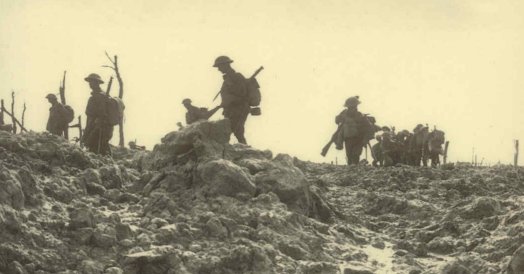 This page does not pretend to be in the least bit epic in size, merely one point of view, told through the eyes of a few of the poets who portrayed World War I through their words and their emotions, and to all but a few, their lives, given, in service. Many millions of lives were lost in this great conflict, and we suppose that final counts of the dead will never be clearly known.
Let us then leave this stage and allow the poets to speak for themselves, and to allow Benjamnin Britten's masterpiece,
War Requiem, to speak, as well......
THEY WILL NOT BE FORGOTTEN.
What passing-bells for these who die as cattle?
-Only the monstrous anger of the guns.
Only the stuttering rifles' rapid rattle
Can patter out their hasty orisons.
No mockeries now for them; no prayers nor bells;
Nor any voice of mourning save the choirs,-
The shrill, demented choirs of wailing shells;
And bugles calling for them from sad shires.

What candles may be held to speed them all?
Not in the hands of boys but in their eyes
Shall shine the holy glimmers of good-byes.
The pallor of girls' brows shall be their pall;
Their flowers the tenderness of patient minds,
And each slow dusk a drawing-down of blinds.
Benjamin Britten's War Requiem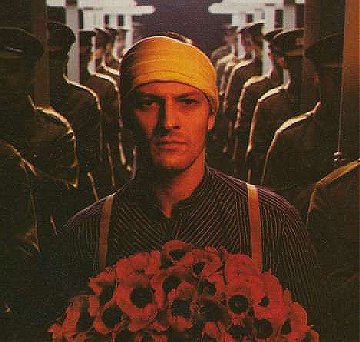 Sean Bean as The German Soldier
The principal actors do not speak. The music speaks for them, the life and work of Wilfred Owen, speak for them.In a series of devastating images, Derek Jarman shows us the useless horror of war. Brutal, exquisite, sexual, painterly, these are but a few of the words used to describe this film. With Sean Bean as The German Soldier, Nathaniel Parker as Wilfred Owen, Tilda Swinton as The Nurse, and in a cameo, and as it turned out his final appearance, before his death, Sir Laurence Olivier as The Old Soldier. These and the other members of the cast, along with Sir Benjamin Britten's master work, written in 1961, bring us this eternal vision......
the music that you hear:
requiem aeternam
from Benjamin Britten's
War Requiem.
1913 - 1976