Beatrix Potter to Mrs. Heelis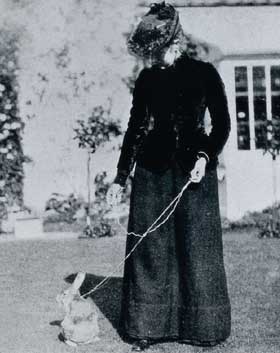 Beatrix Potter and Peter
In 1901, Arthur Conan Doyle (one year before he was knighted) bought one of the few hundred privately printed copies of The Tale of Peter Rabbit for his children. The next year Peter Rabbit became available to a wider audience, and over the next 10 years, Potter wrote and illustrated 20 more books for children, including The Tale of Benjamin Bunny (1904), The Tale of Tom Kitten (1907), The Roly-Poly Pudding (1908), and The Tale of Mr. Tod (1912). Potter's first professional work, in 1890, was for a German greeting card firm, which commissioned her to illustrate a volume of children's verse in 1893. She brought to her work her governess-supervised childhood study of plants and animals, from which she gathered so many of the structural details that are evident in even her early work. John Everett Millais, the Pre-Raphaelite painter best known for Ophelia, was a friend of Potter's family and encouraged her work. While her illustrations have none of the gilded ornateness of the Pre-Raphaelites, their influence can be seen in the meticulous attention to detail in her reproduction of nature (if mice wore dresses and carried brooms, they would no doubt look just like Potter's drawing for The Tale of Two Bad Mice). It is not merely the detail of her illustrations and the charm of her stories that have placed Potter at the acme of the "golden age" of children's literature. Rather, her innovative philosophy of children's literature wrought changes that one can still see in books being produced today. Potter believed that children's literature should be for children: The books should be small enough to fit comfortably into a child's hand, and each page of written text should have an illustration to go with it. Partly as a result of her failing eyesight, Potter produced new work only occasionally after her marriage at the age of 46. After her successful career as an author and illustrator, Potter embarked on a second career, this time as a sheep breeder in her beloved Lake District. She is remembered there for her work as a conservationist and an agriculturalist, although outside the Lake District her great fame still rests of her lovely creations for children.
Beatrix Potter was born on 28 July 1866 in South Kensington, London. She lived a lonely life at home, being educated by a governess and having little contact with other people. She had many animals which she kept as pets, studying them and making drawings.

Her parents took her on three month summer holidays to Scotland, but when the house they rented became unavailable, they rented Wray Castle near Ambleside in the Lake District. Beatrix was 16 when they first stayed here. Her parents entertained many eminent guests, including Hardwicke Rawnsley vicar of Wray Church, who in 1895 was to become one of the founders of the National Trust.
His views on the need to preserve the natural beauty of Lakeland had a lasting effect on the young Beatrix, who had fallen in love with the unspoilt beauty surrounding the holiday home.
For the next 21 years on and off, the Potters holidayed in the Lake District, staying once at Wray Castle, once at Fawe Park, twice at Holehird and nine times at Lingholm, by Derwentwater, famous now for its rhododendron gardens. Beatrix loved Derwentwater, and explored Catbells behind Lingholm. She watched squirrels in the woods, saw rabbits in the vegetable gardens of the big house. She made many sketches of the landscape. They still kept in touch with Rev Rawnsley, who after 5 years at Wray, moved to Crosthwaite Church just outside Keswick.
Rawnsley encouraged her drawings, and when back in London Beatrix made greetings cards of her pictures, and started a book. Rawnsley encouraged her to publish, and eventually Frederick Warne published 'The Tale of Peter Rabbit' in 1902. Her third book, 'Squirrel Nutkin' had background views based on Derwentwater, Catbells and the Newlands Valley. Fawe Park featured in 'The Tale of Benjamin Bunny'.
In 1903 Beatrix bought a field in Near Sawrey, near where they had holidayed that year. She now had an income from her books, Peter Rabbit having now sold some 50000 copies. In 1905 she bought Hill Top, a little farm in Sawrey, and for the next 8 years she busied herself writing more books, and visiting her farm. In 1909 she bought another farm opposite Hill Top, Castle Farm, which became her main Lakeland base. Seven of her books are based in or around Hill Top. Tom Kitten and Samuel Whiskers lived there. Hill Top is still as it was then, and is now the most visited literary shrine in the Lake District.
Beatrix Potter married William Heelis, a solicitor in Hawkshead, in 1913. Then started the next stage in her life, being a Lakeland farmer, which lasted for 30 years. The office of William Heelis is now the National Trust's' Beatrix Potter Gallery.
In 1923 she bought Troutbeck Park Farm, and became an expert in breeding Herdwick sheep, winning many prizes at country shows with them. Beatrix continued to buy property, and in 1930 bought the Monk Coniston Estate - 4000 acres from Little Langdale to Coniston - which contained Tarn Hows, now Lakeland's most popular piece of landscape.
In 1934 she gave many of her watercolours and drawings of fungi, mosses and fossils to the Armitt Library in Ambleside.
When she died on 22 December 1943, Beatrix Potter left fourteen farms and 4000 acres of land to the National Trust, together with her flocks of Herdwick sheep. The Trust now owns 91 hill farms, many of which have a mainly Herdwick landlord's flock with a total holding of about 25000 sheep. This was her gift to the nation, her own beloved countryside for all to enjoy. Beatrix was the first woman to be elected president-designate of the Herdwick Sheepbreeders' Association, which continues to flourish.
Many books have been written about Beatrix Potter, but the following are some that will be of interest to those interested in the Lake District:
Hunter Davies has written the book 'Beatrix Potter's Lakeland', with photographs by Cressida Pemberton-Piggott. It takes a look at the relationship between the beautiful Lakeland countryside, and the very private woman who was inspired by it, painted it, farmed it and helped preserve it for future generations to enjoy
'Beatrix Potter's Derwentwater' by Wynne Bartlett and Joyce Whalley describes the area around Derwentwater where Beatrix stayed for her holidays, and which inspired her to base several of her books in this area. It also describes walks to be taken to see these places.
'Beatrix Potter - Her Life in the Lake District' by W R Mitchell tells about Beatrix's life as a landowner, conservationist and sheep farmer. The text is based on interviews with people who knew her - interviews spread over a period of 40 years during which time the author was editor of the magazine 'Cumbria'.
The National Trust have published a little book by
Elizabeth Battrick - 'The Real World of Beatrix Potter', which also uses interviews with people who knew her. It outlines the support given by Beatrix Potter to the National Trust and the influence she had on the Trust's present farming policy.
You can find out more about Beatrix Potters life as a farmer in the National Trust booklet 'Beatrix Potter and her Farms' by Susan Denyer.
'The Tale of Beatrix Potter' by Margaret Lane is a full biography of Beatrix's life from her childhood in London to her years in the Lake District.
Beatrix Potter's great-nephew John Heelis has written 'The Tale of Mrs William Heelis Beatrix Potter' which covers the relationship with her husband of thirty years, William Heelis. With anecdotes and reminiscences from family and friends, this enhances the picture of Beatrix Potter's life .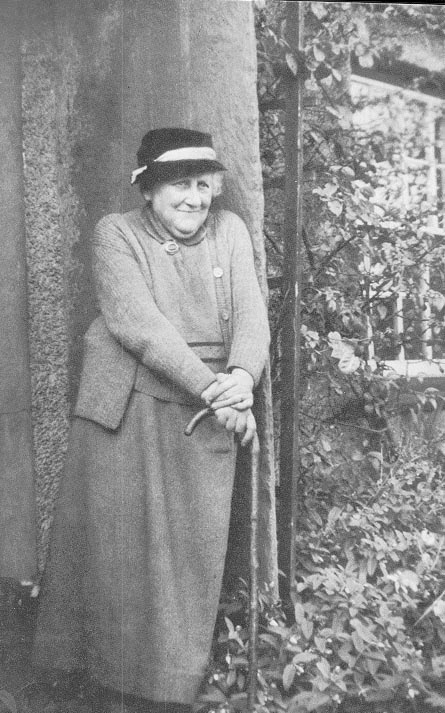 Mrs. Heelis
From Mrs. Tonnessen's
First Grade Class
at Dickerson School, Chester, NJ
U.S.A

built by Beatrix Potter's
maternal grandparents,
John and Jane Leech.
Beatrix often visited Gorse Hall
with her mother, Helen Leech.





BEATRIX POTTER .
©Frederick Warne & Co., 2002.

Frederick Warne & Co., is the owner
of all copyrights
and trademarks in the Beatrix Potter
characters, names & illustrations.

©Frederick Warne & Co., 2002

Hill Top Farm near Sawrey is
one of the National Trust's
Cumbrian treasures.
SEE ALSO
The Beatrix Potter Attraction in Bowness on Windermere draws visitors from all over the world - we went along to find out more.
Read more about Beatrix Potter's life in Cumbria.
WEB LINKS
For opening times, prices, public transport information and advice for visitors with disabilities - click here.
Peter Rabbit
The official site for the characters. Great for kids.
Hop Skip Jump
The website for the World of Beatrix Potter Atrraction.
Beatrix Potter
More about the author and her life in Cumbria.
FACTS
Beatrix Potter was born in London but visited Cumbria for holidays as a child.
She bought land in the Lake District and kept Herdwick sheep.
One of the first people to buy The Tale of Peter Rabbit was Sir Arthur Conan Doyle, creator of Sherlock Holmes!
After her death, she donated 14 farms, 4000 acres of land and her sheep to the National Trust.
She is quoted as saying, "Thank goodness I was never sent to school; it would have rubbed off some of the originality."
In 2001, it was discovered that Potter may have taken the characters names from people buried in a cemetery in London. Names on headstones included Mr Nutkin, Mr McGregor, Jeremiah Fisher, Tommy Brock - and even a Peter Rabbit!
Sam and Lizzie are not responsible for external links