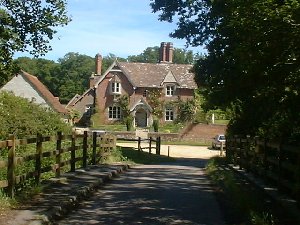 to be found at the
Devon Library
and Information Services
Local Studies Service
A New Forest
Squatters Settlement
1700 - 1900
an entry in the
Norton Anthology of
English Literature
a fairly detailed entry
in Wikipedia
with links to William Gilpin
Hampshire's website.
The New Forest is a medieval
royal hunting area
in the south of England
our website about this
incredibly beautiful place
the enlarged and completely
redesigned museum is now
open
in Boldre, Hampshire, England
William Gilpin School has
a long history of service to the
community.
The school was originally founded
by the Reverend William Gilpin in 1791
"for the education of the sons and daughters
of the day labourers of the parish."
By 1870 the original building on the
corner of School Lane was too small
for the needs of the village and the present
building was opened in 1875.
more William Gilpin links
from the University of Alberta
in Canada
the geography and architecture of landscape
from a subjective point of view, using
elements of myth, fantasy
or the picturesque.